Stones Main Page / My Stones shows
Mannheim, Germany, 08/22/1995
Tour: Voodoo Lounge Tour 1994/95
Venue: Maimarkt
Time: 8:45 pm - 11:15 pm (2:30 hours)
Audience: 78,034 (sold out)
Ticket prices: 65 DM (field)
Support Act: Big Country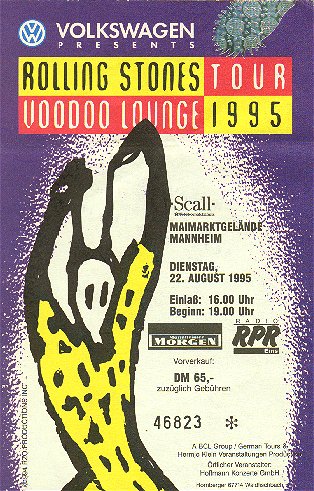 Set List
Not Fade Away
Tumbling Dice
You Got Me Rocking
Rocks Off
Sparks Will Fly
Satisfaction
Beast Of Burden
Dead Flowers
Wild Horses
Like A Rolling Stone
Heartbreaker
Gimme Shelter
I Go Wild
Miss You
Honky Tonk Women
Connection
The Worst
Sympathy For The Devil
Street Fighting Man
Start Me Up
It's Only Rock 'n' Roll
Brown Sugar
Jumping Jack Flash
This was my very first Stones concert!
Although I bought the Satisfaction and Get Off Of My Cloud singles back in 1965 and also got an album now and then, I was never a "real Stones fan" until 1994. Well, I liked them, but more listened to other bands like Led Zeppelin, Deep Purple, Rory Gallagher, later also Chicago and Frank Zappa. So I never went to a Stones concert, which I really regret today!
It all changed with the Voodoo Lounge album in 1994...
That piece of music really blew my mind away and I couldn't stop listening to it again and again. All the big advertisement stuff and newspaper reports did the rest and I decided to go to the show - maybe the last chance to see this band?
Unfortunately I didn't make detailed notes, so everything I can remember today is: I arrived at the Maimarkt site at 1 pm, the gates opened at 4 pm and after running across the field I managed to get a very good position in the front rows. The show started at 7 pm with Big Country, and the Stones hit the stage at 8:45 pm. It was a great show and it changed my life ...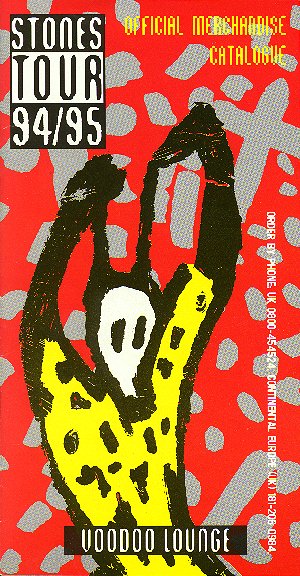 The Voodoo Lounge official merchandise
catalog in Germany