Stones Main Page / My Stones shows
Werchter (near Brussels), Belgium, 06/21/1998
Tour: Bridges To Babylon Tour 1997/98
Venue: Festival Ground
Time: 9:25 pm - 11:45 pm (2:20 hours)
Audience: 47,552 (sold out)
Ticket prices: 1600 BEF (field))
Support Act: Simple Minds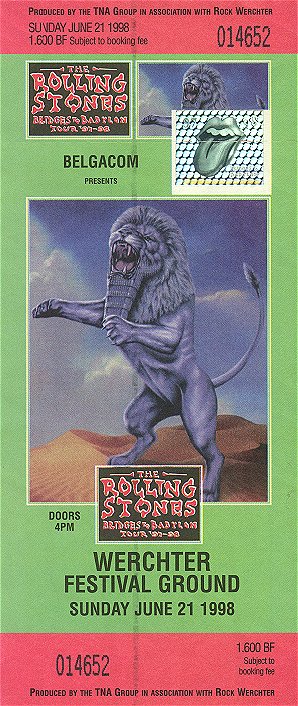 Set List
Satisfaction
Let's Spend The Night Together
Flip The Switch
Gimme Shelter
Sister Morphine
It's Only Rock'n Roll
Saint Of Me
Out Of Control
Under My Thumb (web choice)
Miss You
--- Introductions ---
Thief In The Night
Wanna Hold You
Little Queenie (B-Stage)
I Just Want To Make Love To You (B-Stage)
Like A Rolling Stone (B-Stage)
Sympathy For The Devil
Tumbling Dice
Honky Tonk Women
Start Me Up
Jumping Jack Flash
Brown Sugar (encore)
These were my impressions posted to the Undercover Mailing List after I returned back home:
Werchter 2 report, part 1
(Posted to Undercover on 06/25/1998)
Hi again!
Here it goes again, Werchter 2 now:
It was a very short, restless night: Did you ever share a room with two snoring Frenchmen? Oh, my God! At least the third seemed to be quiet, but don't ask me for names, no details about that ;-))
After having breakfast, we had to break up the great Glimmer Team, because the French connection (Thierry, Fabrice, Crissss and the three kids) had to leave. Very, very sad - we had such a nice gathering - but I'm pretty sure to meet you again!
The rest of us (Mayumi, Peter, Lieve and me) arrived at the gate again at 11am. I've never been so early there at any other show, and I shook my head about myself, thinking "Now it's no doubt - I *must* be really crazy, but also really a Glimmer" ;-))
All the streets were almost empty and the little village was still sleeping. When you saw that, you couldn't imagine how it looked like in the late evening :-)
We sat down directly in front of the door, but of course Mayumi had the *very* front row again, leaning her back against the door :-) Although in the morning she said she was very tired, now she was quite awake again, while the rest of us were sitting somehow lethargically in the heat, dripping from sweat and getting out the suncreme bottle every half an hour ;-) We had a quite interesting conversation with a British girl there, who told us she was going to *all* European shows. She was really a hardcore fan, with Keef- and tongue-tatoos, Stones rings and ear-rings.
Slowly, slowly the waiting crowd grew bigger, and we got more and more excited again. Half an hour before the opening, we prepared for the final struggle: Threw away the water bottles, opened our bags for the controls and folded the tickets some times forth and back, so that the control guys could rip it off very easily and fast (that's a nice detail I never thought about before, but you can learn a lot from professional Mayumi :). It was fun for me to watch Mayumi: She stood there, almost her whole body pressed against the door, just not to loose a single inch ;-)
When the gate opened, we were pushed inside very heavily by the crowd, but all went well. Once inside, I suddenly lost the three other ones between all that running people, but arriving inside the circle I saw Mayumi waving her cap and settled directly behind her. Incredible girl! How does she always make it to the front row? Some time later we also spotted Lieve and Peter, some meters away inside the circle.
Well, I'll shorten this now a little: No soccer game today, many hours to wait, some drops of rain, nice group of people from France, Holland, Belgium, Great Britain, Japan and Germany sitting together, "much" room again.
Also Simple Minds again :-( One of the security guys before the stage also seemed to be bored by them, he went asleep again and again while *standing* there, which cause some laughter in the front row :-)). Later they exchanged that guy.
Well, at 9:30 pm, the curtain went up again! Although I saw that two times before, it's always a moment that makes your heart stop! I was wondering if Keef would be so early again, but Mick has probably blamed him for that, so he came out exactly with the comet this time. I was so happy to see him again, seems like an old friend. Some of the guys were turning around to me with a strange look in their eyes - must have been the "Keeeeffff!" shout ;-))
Sorry, can't write a review of each song, too hard to remember every detail. Only some notes again:
Out Of Control was a highlight for me that night, because Keef did an incredible solo at the front border of the stage quite near to us, which he normally doesn't do in this song (confirmed by Mayumi ;-) ). He really made my heart melt with that!
It was so funny to watch Mayumi: The whole crowd was looking to the right after mad Mick, but she was always looking to the opposite side, where Keef was standing ;-)))
Mick was again in very, very good mood this evening! He's so hot, and every time he came over and danced directly in front of us, I was very impressed by his gestures.
During Saint Of Me, he sang one verse in a deeper pitch - nice experiments!
It was already mentioned some times, but I have to say it again:
Sister Morphine was played and it definitely was my Song Of The Day! Whoo Hooo! Tears in my eyes! But again, even more than with Dead Flowers the evening before, the crowd didn't go crazy with that at all, very low response :-((
Miss You was very good that evening, in my opinion. That was because they were all having a lot of fun: First the Mick/Lisa part, where Lisa sat down on the stairs to the horn section. Mick came up, grabbed her leg and started to lick her toes. Although she seemed to be ticklish there, he didn't stop, while she was laughing and looking very surprised at him. After that, he turned to the audience with a very triumphant look and a small grin in the corner of his eyes. Such a great entertainer! Even after he went away, Lisa was still sitting there, laughing and shaking her head, finally stood up, shouting "Wow!", which you could clearly hear through the microphone.
That was definitely *not* planned, because Lisa was so surprised :-))
Later, Mick was screwing up Bobby. He just started his solo, when Mick jumped to the center front and made the crowd sing the chorus again. Well, Bobby stopped again, smiling and shaking his head about that crazy Mick.
Another thing was Keef and Darryl, each in one arm of Lisa - then Keef putting his head against her shoulder like he was crying :-))
But Mick wasn't satisfied with the crowd at Ronnies side, because he shouted "What's with you over there?", went to that side and even called Lisa to come over, too.
Damn! Now it's 1 am again and I have to stop for today, go to bed for some Keef dreaming ;-)
Continued tomorrow (if you like...)
Bye, Thomas


The "Golden Circle" Wristband from Werchter 2
Werchter 2 report, part 2
(Posted to Undercover on 06/25/1998)
Hi again!
As Keef said in Nuremberg, "Sorry to be late", but here is the last part now:
After Miss You, the introductions were held, again with Mick speaking a lot of Belgian words. Charlie had a great applause again, but of course this was beaten by Keef ;-)
When he started his section, he joked around as usual: "Good to be back, it seems like yesterday. Well, that's an old joke, of course!".
He did Thief In The Night (with Ronnie's daughter singing background again) and Wanna Hold You.
The bridge went out and exactly at the moment Mick went over it, a heavy shower came down. But the boys didn't care much for that and the audience was happy for that little refreshment! The stage workers spread out an umbrella on the B-Stage, and Mick was telling the crowd all the time "It's not for us, just for Charlie's drums!" Funny, that sounded to me like he was anxious the crowd would think of them as weaklings.
Anyway, this was somehow a new, exciting experience for me, dancing to Little Queenie in the pouring rain :-))
After that, they did I Just Want To Make Love To You, which was another surprise for me. It was played very slow and catchy, what a great blues played by a great band! Never will forget this.
The third one again was Like A Rolling Stone. They played it in perfect routine, of course, and the crowd loves it always (everybody can sing the chorus), but for me it was a bit of boring hearing that for the third time within one week... I mean, there are so many other damn good songs!
The boys went back on the catwalk, but only Keith was slapping some hands. As usual, the crowd was all looking to the front stage again and needed a long time to realize where Mick has gone :-) On the catwalk, Mick caught some piece of cloth, which somebody aimed at him (don't know what it was), but threw it back into the crowd immediately. Betsy, we need your help! ;-)))
Well, the last songs blew us away again! The Rolling Thunderstorm was over Werchter, although the rain had stopped.
At the Jumping Jack Flash solo, Keef came down from the stage as always, but I never was so much in the front to watch him. Oh my God! I almost could grab him! Three meters away from God! Can't find the right words, but you all know this feeling... That was the greatest moment of the show for me!
No 'You Can't Always Get What You Want' again, but we had the best Brown Sugar of the three European shows so far IMO! They were really on! It was a pity, but the wind was blowing from the main stage direction, so almost not a single piece of glimmer went down on us. Mick was really going wild, I didn't see that before! He ran around and jumped like a crazy monkey, shirt totally torn open, and even did an imaginary boxing match in the air :-)) When Keef came near him, he aimed some of the beats to him also, and I hope he didn't hit his ribs ;-))
Well - everything ends one time - the final bow of the four guys was again a great moment, I liked to see how they obviously enjoyed this show, and hopefully the audience could give them something back for their great job that evening!
Again, sorry for the Ronnie fans, but I had my eyes on Keef all the time (with some short Mick interruptions :). Just can mention that he did a pretty good job on Love In Vain the first night and also on Sister Morphine the second night, but he wasn't that much "in the show" IMO.
Charlie was doing a great job in both nights, but the problem with the front row is that you almost can't see him - the stage is too high :-(
After the show Mayumi and me went to the video tower again to meet her Japanese friends. We expected to see Peter and Lieve there also, but they didn't come (Peter: Did you come there later?). So we fought ourselves through the mass and headed for the car. And - we were lucky to meet Peter and Lieve there again after waiting some minutes for them.
So we had a short, but very intense glimmer meeting at the cars, where everybody could express his "Oh my God! That was so fantastic! Did you see Keef doing that..." :-)))) Crazy people!
Peter and Lieve were heading back home then, so we had to say Goodbye for this time, but nobody was too sad, because somehow we all knew we would meet again some day...
Well - there were still two UCs left in Werchter that night, who spent another nice hour of Stones talking then. The next morning we got up quite early again and after breakfast my taxi headed for the Brussels airport at 8:30 pm.
We got into the heavy traffic of a busy Monday morning and I was afraid for Mayumi to reach her flight, but somehow she always has the luck on her side (remember Las Vegas?) and we arrived there exactly in time! We had to say Goodbye then, although this was of course hard after such a nice, happy Stones weekend, and the crazy Japanese lady disappeared as quickly as she came, after only 4 days in Europe ;-)
All I can say now - I will never forget that great time I had with all of you - thank you again!
And thank you, Undercover, for making it possible for me to meet this great Stones community!!
Ciao, Thomas