Stones Main Page / My Stones shows
Nuremberg, Germany, 06/13/1998
Tour: Bridges To Babylon Tour 1997/98
Venue: Zeppelinfeld
Time: 9:30 pm - 11:40 pm (2:10 hours)
Audience: 91,590 (sold out)
Ticket prices: 98 DM (field), 143 DM (tribune)
Support Act: Jonny Lang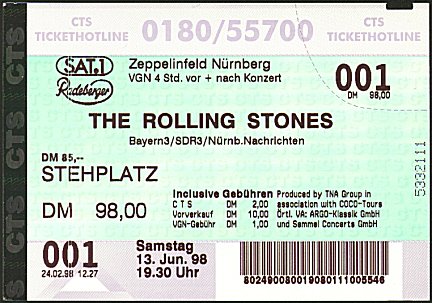 Set List
Satisfaction
Let's Spend The Night Together
Flip The Switch
Gimme Shelter
Anybody Seen My Baby
It's Only Rock'n Roll
Saint Of Me
Out Of Control
Under My Thumb (web choice)
Miss You
--- Introductions ---
Thief In The Night
Wanna Hold You
Little Queenie (B stage)
The Last Time (B stage)
Like A Rolling Stone (B stage)
Sympathy For The Devil
Tumbling Dice
Honky Tonk Women
Start Me Up
Jumping Jack Flash
Brown Sugar (encore)
Well, The Rolling Stones had been forced to postpone the start of their European Tour after Keith Richards was injured in an accident at the weekend May 16/17. Keith had fallen from a ladder in the library of his home in Connecticut and cracked two ribs. Some shows had to be postponed, and so it happened that the European Bridges To Babylon Tour started in Nuremberg!
These were my impressions posted to the Undercover Mailing List after I returned back home. Some memories sound foolish today, but remember this was written still being 'blown away' after coming home from the show after a four hour drive :-)
Nuremberg Review, part 1
(Posted to Undercover on 06/14/1998)
Hi all!
Well, I'm still kind of "shocked", don't know where to start :-)
So I'll try to do it chronological...
I picked up UC Michael Honig at the Frankfurt main station and we went together by car. It was the first time for me to meet someone from the list personally and we really had a good time during the journey!
We made a short stop at a patrol station on the way around 11 am, where we already saw some people with Stones T-Shirts etc. Also some cars we saw on the highway had tongue signs in the back screen. We finally arrived at Nuremberg around 12 am and Michael checked-in at his hotel.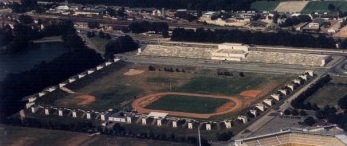 Next we went to the "Brown Sugar" bar, but it was still closed. We didn't manage to meet any Undercovers there, only found a note from Arnold, who had been there already and left off for the show earlier. So we took a drink elsewhere and then took the Underground to the venue.
We arrived there around 2 pm and there were already a lot of people sitting at the gate, but not packed very dense, so we could manage to sit down around 5 meters from the gate. We could see that they had at least 3 gates. We still had time to get our shopping done before the show, I bought 2 B2B T-Shirts 50 DM (29 $) and the tour program. They also have the tour video there for sale, price around 50 DM (29 $). Well, it was the first show, so I have some left to buy other stuff :-) After the show we saw some (appearantly dutch?) dealers who sold some of the shirts for the half price...
The weather was pretty good: Dry, but a little bit cool, especially in the late evening (more on that later).
While sitting there, a helicopter crossed the field taking pictures of the gates. At one time, there was also a small camera team at the gate taking pictures of the waiting guys and making a short interview with some of them. I did not see these pictures in the TV report, so maybe they will broadcast that today or at any later time.
Then, at 3:30 the doors opened...
There was some kind of pushing and shoving of course, but all kept cool. When it was our turn, they suddenly closed the gate again! There might have been some organization problems, causing the too early opening of our gate...
After waiting some 15 minutes again, they finally opened. There was local security only (I assume, please correct me, if I'm wrong!), they didn't do a very strict job. They only asked me if I had any bottles or photo equipment with me, took a *very* rough look into my bag (could have taken a lot of equipment with me :-) ) and didn't do any body check at all. But that may be local strategy, don't know that for the next concerts.
Then the "big run" across the field took place. Within that, I lost contact to Michael. I saw that they had a extra fence in front of the stage, entrance left & right side of stage. That was some kind of triangle, base line at stage, other sides meeting around 30-40 meters back at the catwalk. Yes, they have the catwalk here in Europe! It's roughly 1.5 meters high, with low fences 1 meter to the left & right, slapping hands with the boys is possible!
Of cause all people were rushing to this area immediately! They wanted to see the ticket there again, so keep it ready when you go there (although there was such a pushing that they couldn't check each ticket). The security guys were heavily trying to cool down the pushing crowd, shouting "go slow, cool down, you will all get inside...". Hard job, I assume. It was a somehow scary experience, being pushed-in there together with all the (after running) heavy breathing and sweating fans, but all went well :-)
Inside, you have to sit / lie down immediately to reserve a little space for the next hours of waiting. But that didn't work so good, so I ended up within a very packed crowd, sitting on the ground and anxiously looking around to defend the "claim". I don't know if you can imagine that in the US, but it's really a fight :-)) Oh, I forgot to mention - we were on the Keith side, of course! Not really front row, but around 20 meters from the stage. Great view! I also spotted Michael there again, some meters away, but it was impossible to get together again :-(
At that time, it was 4:30 pm, so we had to wait another 3 hours for the concert start...
Sitting in the field brings up Mixed Emotions to me always: It's a drag to sit there so packed, fight for some square inches to put your legs or arms. Very poor chance to get out and get a drink or visit the toilet. No selling of food inside by "walking dealers". I wasn't outside, but I saw some people with wristbands, so I imagine you get that when you go outside (can any UC tell about that?). On the other hand, it's an amazing community of hardcores you spend your time with at the stage, have nice talks etc. The audience was rather mixed-age, I saw some children of 10-12, but also some "grandparents" of at least 60! And it's always some kind of funny watching people trying to move through the crowd: "Can you please move your arm some inches, I only want take a step there!" or "May I rest my arms on you?" :-) It's really amazing, but every inch is covered with bodies, bags, blankets etc.
About the venue: They had *two* light towers in the back, left and right of the B-Stage, so if you plan to meet there, agree on the side before! They also had built up some tribunes at the sides, but very far away from the stage. They were only half filled. Really bad seats, but the most expensive, I think!
Perfectly in time, at 7:30 Johnny Lang started his warm-up gig. It was not so bad all in all, he has a strong voice reminding me of Joe Cocker a little bit. Played some rock and blues tracks, one of them "I can't quit you". I didn't like his long, screeching guitar soli so much. He warmed up the crowd for 45 Minutes 'till 8:15 pm.
I know you're waiting for the Stones, but I have to make a break here, because my little daughter is going wild to see the TV outtakes from the show NOW :-)
I hope this wasn't too long or boring for you! Part two follows (hopefully) tonight.
Bye,
Thomas (Keefian since yesterday!!!)
Nuremberg Review, part 2
Posted to Undercover on 06/15/1998
Hi again!
(Something I forgot in the first part: They sold the drinks in very nice glasses with Stones BTB pictures on them, you only have to pay 2 DM pledge which you get back when you return it. Unfortunately I didn't get one yet, because I didn't go outside, but will get one at the next show.)
Then we had to wait another hour, but this was not boring at all, because watching all the preparation work on the stage was interesting (cleaning the stage, sound checks, light technicians climbing the towers, bringing in Mick's wardrobe etc.). When they brought the drinks, I knew: NOW!!!!

And then, at 9:30 pm, the comet shot out of the screen and Keef entered the scene! Although I've already seen it on the PPV video - that was such a great moment for me! I was so focussed on Keef that I didn't exactly see from where Mick was coming, only saw him on the screen, but I think he entered from the side (horn section). Well, at the first seconds, I really didn't know where to look first!
My overall, personal opinion about the sound: Very clear, not too loud, especially Mick and Keef came out loud and clear, while Ronnie and the backup singers were a little bit low.
They did a powerful Satisfaction, as always. I don't remind so much of that song, because I was still so upset :-) But Mick went wild from the first moment and the crowd was singing the chorus so loudly - Great!
Then followed Let's spend the night together - and there it was for the first time: The big Keith smile ! He seemed to enjoyed this song. After this, Mick spoke his first German sentence "Es ist schön, hier zu sein!" (It's good to be here). Well - the crowd went crazy - like in every town, I think ;-)
Flip the Switch: Keef was very much into it. One detail I remember was him standing there at the front of the stage during a solo, head straight on, but eyes rolling first to the left, then to the right through the audience, with a big smile on his face.
Gimme Shelter - at the "normal level" in my opinion. Lisa did her part at the center of the stage - good work, but nothing special, I think.
Anybody Seen My Baby - sorry I disagree with Ralf here, for me it was the lowest point of the show. The audience loved it, but that's because it's the "greatest Hit" from B2B and known well by most people. I like it on the album, but I don't think it's a song to be played live.
After that, my first dream came true: It's only Rock'n'Roll! I really *love* that song and never heard it live. And it seemed to me that also for the band this was the real start of the show, after warming up. It was the first song Ronnie *played*, before he wasn't doing anything worth to mention. At one of the last choruses, Mick jumped into the air at least 1 meter, kicked his feet, came down and jumped up again, really *shouting* the lyrics. Never saw him jump this way! Man, has this guy a condition! When the boys finished the song, the crowd didn't want to and was loudly singing on. Mick then started to dance again, and this went on for quite a long time! Great audience. One detail I saw in the background: Keef was taking off his guitar, shouting some unfriendly words with a very angry face to a technician. Don't know what was the reason.
After that highlight, Mick continued his german lesson: "Das ist ein neuer Song" (This is a new song). They did Saint Of Me, and again the crowd was singing it's "Oh yeah" even louder than Mick! After the song had ended, a very funny thing happened: Mick already was in background and put on his glittering jacket, while the crowd began singing the chorus of SOM again, so that they couldn't start Out Of Control! So we saw him dancing again to SOM in this OOC outfit :-) He seemed to be somehow impressed of this audience singing.
During Out Of Control Ron was dancing on the stage and at one point Keef was creeping around Mick with a big grin on his face - very funny! Amazing spaz dance by Mick again.
After that, we saw the cybervote on the screen (many people apparently didn't know what that is, www is not so familiar yet to everyone). I must say, I was disappointed that Under My Thumb was winning with slightly more votes than Waiting On A Friend, and I had the impression that the band didn't like playing it. In my opinion, it was played without emotion, but somebody else said it was a highlight? Well, we all have our personal views :-)
One funny thing about Keef again: At one moment, he stood there in the Ian Anderson pose :-)
Lisa was dancing far to the outside stage aisle, which I never saw or heard about before.
After that we had Miss You, which I forgot in my setlist last night. They made that funny meeting on the ground again, Keef, Ronnie and Bernard were kneeling (or even sitting? Couldn't see that exactly) on the ground, doing some small talk. Later in the song Ronnie had a really great solo. He was really a madman, running out to the stage aisle, suddenly changing his mind, running up to Bobby, jumping around him making funny grimaces, at last jumping directly down to the main stage - I really hoped he would not break a leg!
After that, Mick made the introduction, with a lot of German sentences again: "Ich möchte die Band vorstellen" (I'd like to introduce the band). About Lisa he said "Die wunderschöne, sehr schüchterne Lisa Fisher" (the wonderful pretty, very shy L.) and Ronnie was announced as "der wilde und verrückte Ronnie Wood" (the wild and crazy R.) I was somehow sad that Charlie didn't get such a long, strong applause like in Mannheim during Voodoo Lounge.
Then came a great Keef section. First he talked something to the audience I didn't understand quite well, at last he said "Sorry I'm late". He was smiling so friendly and talked in such a true, natural way that nobody could be angry any more about him coming 3 weeks late, I think. I like it that he does not do that stupid german talking like Mick did!
The first song he did was Thief In The Night, which I enjoyed very much. As always, the audience cooled down somewhat during the song, but for me this song was a dream! He was really a thief in the Nuremberg night, stealing all my emotions.
Second was I Wanna Hold You, which was also done well by him, and the crowd was happy with that again.
Then the stage went dark and ... yeah! The bridge came out!
That was really impressive for me to see it live, not only on the PPV video! The boys crossed it, Mick first, then Charlie, Ron and Keef. He was the last to get some applause, I was somewhat sad that Darryl and Chuck got almost no attention from the crowd! They are part of the show!
They started with Little Queenie, it's true, the sound was very bad. And for you going to the next shows: You have to decide what you want, because you cannot see a lot of the B-Stage when standing in front row, because it's far away and nothing is on the screen. Well, next time I might go there.
Then my second dream came true: The Last Time. A cold shower went down my neck and ... well, you all know that feeling when "your" song gets played! Sounds crazy, but I *LOVE* that simple, old song :-)
At last, we had Like A Rolling Stone, a normal, not remarkable performance. I cannot say much about the B-Stage, because I was too far away, but I definitely saw nothing thrown on the stage :-((
Lynn, Betsy & Doug, where are you? Come on!
The boys went back to the main stage over the cat walk, slapping some hands, but I was too far away from that.
Well, the last part of the show was somewhat disappointing to me. All songs played with the normal routine, no highlights. But I had the feeling that Mick's voice was not very strong any more, hope that's not a bad sign. Maybe it was because of the cool air?
Well, we had Sympathy, Tumblin Dice (with a "dancing" Darryl) and Honky Tonk Women. At the end of Chuck's solo, Keef kicked the last note on the piano with his foot again :-)
Then followed Start me up, which was the best song of this section for me. Charlie did a great job here with his hard, clear and precise beats during the three title words.
During Jumping Jack Flash, Bernard was so much into dancing that Lisa had to grab and shake his arm, he nearly missed Mick was going to start singing again. Funny, nice detail :-) Again we saw a dancing bassman.
The encore was only Brown Sugar, they left out You Can't Always Get What You Want. Keef somehow played some wrong first chords, but was into it very fast after that fault. The glitter canons did their job, fireing millions of glimmering pieces of paper into the Nuremberg air. That looked really great, together with that immense light show. Of course I grabbed as many of that snippets as I could, nice souvenirs!
So - what else can I say? It was a wonderful, wonderful evening for me!
And I converted to a "Hardcore Keefian" yesterday. I think he was appreciated by the crowd at least as much as Mick. Every time he appeared in front of the stage, there was a big crying and extra applause!
He also played in front of Charlie again a lot, but you can watch his face on the screen then. And what a face! This happiness, this big smile, this enjoyment of a single note - incredible man. This old rocker doesn't only make music, he simply *is* the music. Sorry I didn't say much about Ronnie and Charlie, but I was watching Keef nearly all the time, and you take some of his feelings with you in your heart after the concert. How many times I stood there, shaking my head and smiling at that incredible guy? How many times I was screaming that "Keeeeeeff"? Mayumi, get my feelings?
Overall show time was 9:30 pm to 11:40 pm, that's the normal 2:10 hours, although we had that short encore only.
Good night to everyone!
Ciao,
Thomas